Restaurants, diners and other types of eateries all have one thing in common. They use either a few or a team of food service carts. These carts transport items to the salad bar, collect soiled lunch trays, transport clean dishes to a buffet, etc. But, no matter what they're used for, it's important for the owner of an eatery to choose the best food service carts for their establishment. Checkout three must-have features to look for when choosing a food service cart.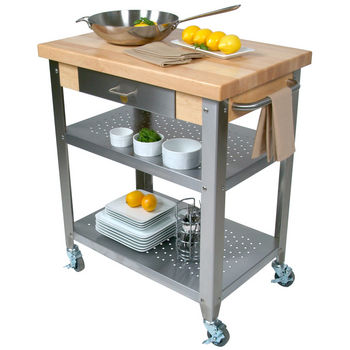 Sturdy Shelves
Some food service carts have two or three shelves while others have more. The carts you select should have sturdy shelves designed to support both heavy and light items. Also, the shelves should not bow when items are stacked on them. It's important to know that when you load up a food service cart it will be able to handle the weight.
Durable Casters
Any cart used in food service should have durable casters. Stainless steel casters are made to handle heavy loads. In addition, the casters on your cart should have brakes so you can leave the cart in one area without worrying about it rolling away. The casters on a cart are its foundation and they should be able to handle any supplies you place on the cart.
Ease of Cleaning
In food service, there are a lot of spills and messes that happen in the course of a business day. A container of salad dressing meant for the salad bar could spill onto one shelf of the cart. Or, a pitcher of iced tea could fall onto one of the shelves. This makes it essential to get a food service cart that's easy to clean. Mild soap, hot water and a clean cloth should be enough to clean a quality food service cart from top to bottom.
Lastly, it's a good idea to try out a few types of food service carts. That way, you can find some that are easy to maneuver and fit all of your other requirements.